Social Distancing Screens & Partitions
Enhancing Social Distancing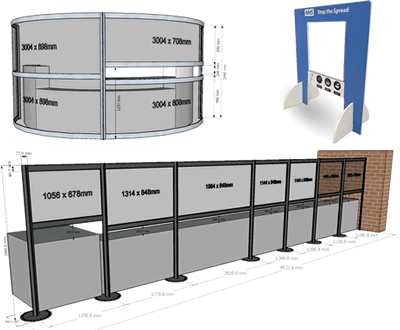 In a world where we are required to re-assess how we interface and interact within our working environments, the need for aids and support to assist us in our social distancing has never been so vital.
The Colour Red Limited have realigned their exhibition and conferences products & services to assist in the fight against COVID-19 by creating a fully inclusive service offering bespoke screens and partitioning for areas of the work place of high footfall and multiple personnel.
All of our components are sectional/modular and are delivered flat-packed for assembly (with instructions) by on-site personnel reducing the need for site surveys and installation teams.
All components are in stock and can be delivered within 48 hours subject to configuration and quantities.
Full detailed plans are created and forwarded to clients for order approval.
It's a quick and easy process as all we require to start the enquiry are the following:
Photos of areas to be screened/partitioned
Measurements of areas and proposed screen/partitions
Freestanding or fixed
Transparency percentage 50-100%?
Required printing or signage
Timeframe
Delivery address
Below are a few examples of recently supplied bespoke screens, partitions and access points.
Please call 01686 668438 or email enquiries@thecolourred.co.uk with your enquiry and we will respond within 4 hours.
KEEP SAFE