Supporting Services & Products
The Finishing Touch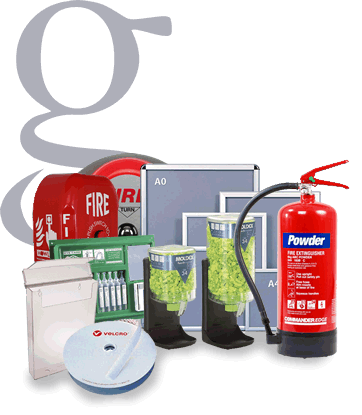 The Colour Red are pleased to be associated with and are the creative arm of greenhouse Integration, a pioneer in creating and delivering bespoke behavioural, management and safety cultures for companies and projects where the need to excel is vital. An example of our combined success is the delivery of the widely acclaimed THINK SAFE WORK SAFE HOME SAFE cultural campaign delivered to the M.O.D.
Regarding supporting our products in the field, we stock and distribute a wide range of associated accessories from fire extinguishers to Velcro rolls, snap frames to ear & eye protection and care.
We also design and print supporting material such as observation reporting cards, work sheets, brochures, business cards and posters.
Snap Frames A0 to A6 (waterproof & internal)

Brochure Holders A4 to A6 (waterproof & internal)

Suggestion Boxes

Double Sided & Velcro Tape

Fire Extinguishers

Ear Plugs & Dispensers

Eye Wash Stations

Lens Cleaning Stations

First Aid Kits

Notice, Dry-wipe & Magnetic Boards